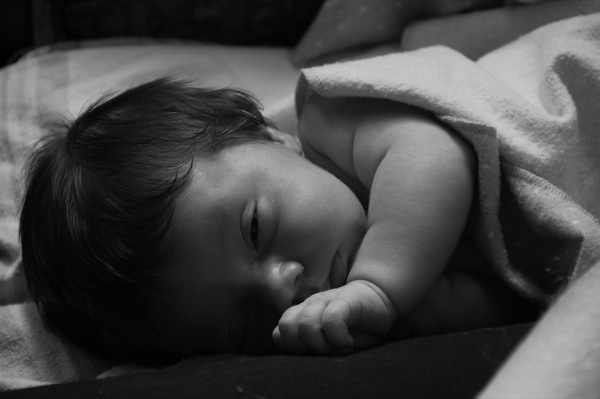 Mostly you sleep. "Mostly" in a statistical sense, at least, although somehow
we
are mostly
not
sleeping, so there's something subtly wrong with that term. When you aren't sleeping you are usually eating, or at least circling curiously around the possibility of eating. You have quickly settled on a terse, vigorous vocabulary of two exclamations: "Eh-eh-eh-eh-eh-eh-eh" means that you are hungry; "LLLLA!" means that you are uncomfortable. We are hoping you decide to specialize this latter complaint a little further before too long, because at the moment it is used whether the discomfort is amenable to external correction or not, which leads to your father churning through diapers at an ecologically alarming rate.
You're sleeping right now, and we're listening to songs we like because the only Mozart we have is violin concertos, and for B's sake we try to avoid pairing violins and sleep deprivation. They aren't sure about those Mozart studies, anyway. Basically, we discover the more we read, "they" aren't really sure about much of anything. So I guess we're mostly going to improvise. B is reading up on Montessori schools, even though she should be sleeping or showering or eating. I am taking nearly forever to write this short, bleary blog entry when I should be sleeping or showering or making us some lunch. It's hard to imagine paying somebody $17k to facilitate your self-directed growth, given that you haven't quite figured out how to self-directedly not smack yourself in the eye while you're trying to eat and poop at the same time. It's hard to say much about the process without violating the rule against describing the consistency of individual poops to anybody who hasn't explicitly enquired.
I think we are probably going to survive these first few weeks. I might not have said this so confidently six hours ago, but six hours ago I was too incoherent to say much of anything, so that's just a guess. Since then B and I have both slept about an hour. B has fed you twice. I've changed five diapers and washed my hands fourteen times and made breakfast and started some laundry and forgotten about the laundry and washed up from breakfast and looked up the causes of post-cesarian abdominal pain and taken B's temperature and checked the real-estate listings for a bigger house and made cryptic notations on my chart of your inputs and outputs and chased the cats around a little and cleaned up the glass one of them knocked off the table where I forgot it and made a grocery list whose contents and then location I have also subsequently forgotten. So you see that B has the far harder role.
In some ways, bringing you along into the world is easier than I expected. I had somehow not grasped that you would be so
specific
, right from the outset. I didn't want to say anything before, but in the ultrasounds you always looked a little generalized. Taking care of an infant abstraction sounded really stressful and difficult. Taking care of an incapacitatingly adorable miniature human is exhausting and mind-emptying, but basically simple. Doing so without sleep, of course, is still really stressful and difficult, but on this little sleep even counting to 24 by 4s is really stressful and difficult. Later, when you learn to count, this will mean something to you.
In the meantime, we are mostly just watching you learn to exist. "LLLLA!", you object. True enough. But it's worth it. You'll see.